Construction of the Second CBD Initiated and East Extension Line Put In Use Next Year
Announcer:Junchao Real Estate Release Time:17-03-27 Views: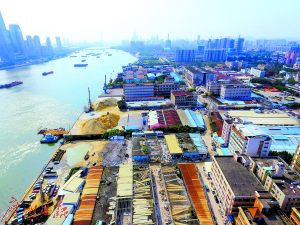 Demolition of Stone Material City (hereinafter referred to as the east pier) is moving forward, and the construction of the second central business district in Tianhe district has been kicked off.
This year, the city government work report clearly put forward to developing the second central business district with Finance City and Huangpu harbor economic zone as its core. And completing east extension line of Linjiang Avenue is a landmark project.
In March, Qianjin and Chepo village's collective property in Tianhe district has started demolition work, and large flat lands can be seen. Thus, the construction of east extension line of Linjiang Avenue has been accelerated. The acquisition of collective lands in east district of international Finance City has been completed step by step, which means that the construction of second central business district officially started.
Tianhe district uses drone to collect data
Big trucks go in and out, and stone materials are producing dust. This is the Stone Material City that is going to be demolished in Chepo Village. The whole environment gives people a "dirty, small, scattered and disorderly" feeling, which is not consistent with the beautiful Pearl River.
"When we heard that the second CBD would be built here, everyone was so happy here, hoping that home is becoming better." Committee secretary of Chepo village, Yang Jianrui says. At present, the average rent of the village collective property leased to Stone Material City is 20 yuan/square meters. After demolition, if high-end business buildings are built, "the rent can reach 150 yuan, which is seven times higher than before."
According to the plan, east extension line of Linjiang Avenue that is to dredge the traffic in Finance City will put into use by the end of 2018. And the planned total length in Tianhe district is 2.928 kilometers, road width is 50 meters, two-way lanes with six cars, and 6-meter sidewalk on both sides.
Results from drone show that from Linjiang Avenue to Chepo south road, the number of land acquisition is 1.8 hectares and the area of collective property building is 18000 square meters, including the building area of 16000 square meters in Chepo village and the area of collective land of 6173 square meters in Qianjin village. At present, the Tianhe district has launched the work of collective land acquisition in east extension line of Linjiang Avenue. Before proceeding the work of land expropriation, the Tianhe district used drone collect data of collective property and the villagers residence, including right of building property right, property establish and rental.
"Because inquiry in advance, we have clearly known the request of expropriation and demolition, timely solve the problems left over by history, and compensation scheme is being worked out." Yang Jianxin said, they take innovative plan of collecting data first and then making compensation plan.
At present, the demolition schedule of collective property in Chepo and Qianjin village is as follows:
On February 28, in Qianjin village, a compensation agreement has been reached about the land in pier. On the afternoon of March 13, the collective property in Qianjin village has been in demolition, finished in three days, and handed over to the construction unit. Currently, Qianjin completed the demolition work with a total area of 2111.7 square meters of demolishing building. The materials of building have been cleared. At the end of March, east extension line of Linjiang Avenue has finished the work of clearing. By the end of July, the work of in Qianjin village can be completed.
In Chepovillage expropriation involves Stone Material City (hereinafter referred to as the east pier) and Yongye container terminal (hereinafter referred to as the west pier), the land ownership belongs to to Chepo economic development co. LTD. (hereinafter referred to as the Chepo company) and collective land and property of the resettlement work. Before March 25, Chepo company completes the collective land transfer of two terminals. Before March 31, west pier completes the land transfer of ground buildings; Early April, the east pier complete land transfer of ground buildings.
Intensive demolition work is not just for getting through east extension line of Linjiang Avenue, but also to get a bigger development area for the international Finance City. Tianhe is planning to be complete collective land expropriation by the end of 2017. After finishing the transfer, it will provide about 0.3 square kilometers land for the second central business district, broadening the development space for the financial innovation headquarters and high technology enterprise and headquarters enterprises.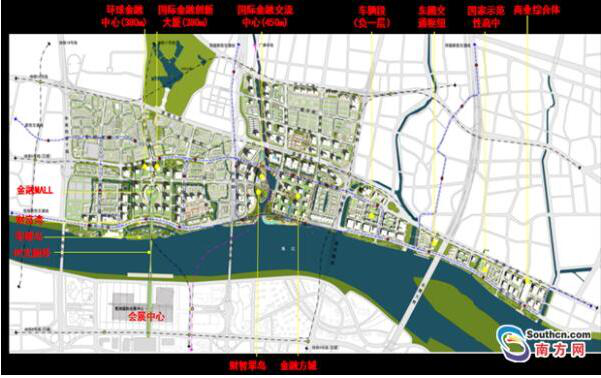 Design map of east part of Finance City
Outlook: Make up for the national financial market platform
In the future, along the road east extension line, will see not the living building but the high-end office buildings that bearing the function of high-end business development and business." a relevant person in charge talks about the future vision of international Finance City.
Linjiang Avenue connects the Pearl River new town and the Finance City. In Guangzhou financial landscape, these two points firmly support the "golden triangle" in Guangzhou, and enhance the financial resources agglomeration.
It is said that at present, the number of financial enterprises reached 1168 in the Tianhe district, increasing by 43% than 2014.The added value of the financial sector increased from 35.9% to 35.9% in the total added value in city. As the planning of second central business district is going to be in effect and Tianhe district is located in Guangzhou international financial, another pearl river new town and Tianhebei will be built here , which will build core financial function areas in Guangzhou.
At present, starting area of the international Finance City has entered the stage of full construction. 16 out of 28 pieces of commercial lands have been sold, and 7 have started construction. 4 of them have been built to over 25 stories. By the end of 2016, the inter-city center has finished 21 stories of office tower. And Guangdong Nan Yue Bank Building, Guangzhou JinKong Headquarters, Guangzhou International Financial Exchange Square are planned as schedule, and their construction work is expected to begin in 2017.
A relevant person in charge in Tianhe district talked that according to the overall deployment of the city in 2017 international Finance City will continue to cooperation in work, such as land reserve, project planning, public facilities construction, and government service. Departments for city and regions should keep contact and steadily push forward villagers' rebuilding and resettlement in starting area, and intensify efforts to serve enterprises feel to play an important role in the development and construction of Finance City. In mid-march, Guangzhou signed a strategic cooperation agreement and decided to build the southern headquarter in international Finance City, quotation system of private equity markets, commodity markets, and a base of venture capital.
At the same time, Tianhe will also aim at domestic and foreign financial institutions, world 500 tops, state and private enterprises. It improved the key investment project to attract the high-quality international project. It was closely connected with the enterprise moving in and enriched the reserve of project.
In order to do a good job in business environment, Tianhe will do a good job in serving enterprises and have specific personnel to focus on the key enterprises and projects. It gave timely feedback to the municipal and district departments about the problems that enterprises encountered in the development, finished the work of later inspection of projects, and promoted the construction process of projects.
Broaden the development space of Tianhe's CBD
A relevant person in charge in Tianhe district said that the Pearl River new town has been in the saturated state, and after international Finance City planned into the second central business district of Guangzhou, it can ease the tension between supply and demand.
He said that Tianhe district still maintained a high attractiveness to enterprises, and it has become the top destination of financial industry, modern service industry, IT industry, and regional headquarters of foreign companies. In January and February this year, there were 6686 new enterprise moving in, an increase of 44.2% that account for 31.8% of the whole city. Among them, there were more 937 companies that have registered capital of 10 million yuan, an increase of 18.8% accounting for 34.9% of same kind. There were 69 newly established foreign capital projects, an increase of 23%. $103.54 million foreign capital was used, an increase of 98%. 500 top enterprises were introduced like CNPC and Guangzhou Automobile Group Finance co., LTD.
At the same time, Tianhe will form the "golden triangle", namely, Pearl River new city, the Finance City and the talent city, and strive to be a big vanguard in the development of Hong Kong and Macao's bay area. On the basis of developing headquarters economy, it will develop into innovation with its own characteristics and the top destination of enterprise investment, and focus on the development of modern service industry, new technology, industry forms and new pattern.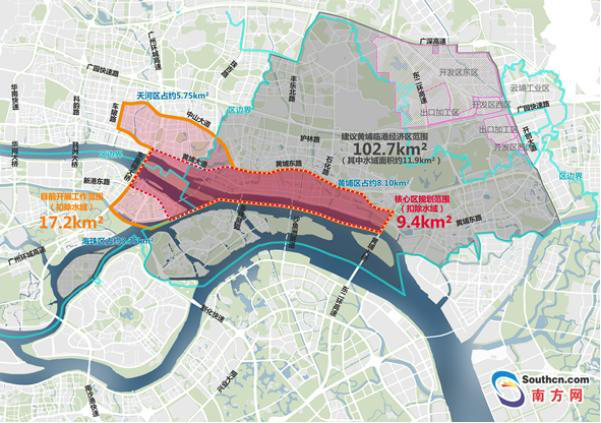 The sketch of the second central business district in Guangzhou
(Source: Guangzhou Daily Reporter: He Ruiqi Picture: Wang Weixuan)